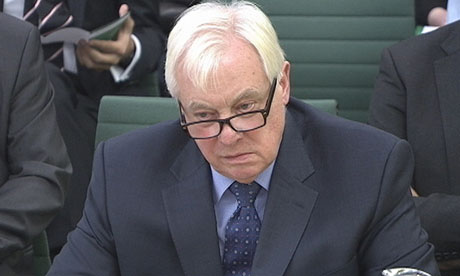 Chris Patten is the old man who is Chairman of the BBC. The 68 year unelected, old Lord, 'Baron Patten of Barnes', was the last Governor of Hong Kong and has been a Member of Parliament, Cabinet Minister and Chairman of the Conservative Party. He takes himself very seriously and has 'gravitas'.
Philip Davies is the 40 year old, elected Member of Parliament for Shipley in Yorkshire who has a bit of a reputation as a 'pit bull' and on Tuesday the two men clashed in the House of Commons Culture Committee where Old Chris was answering questions from Young Phil about the role of the BBC in the sexual abuse of young girls by the late DJ Jimmy Savile, over the long period of time while he was employed by the BBC.
Simon Hoggart in 'The Gauardian' described it thus : 'It was one of the great battles. Old-style, leftwing Conservative versus new, rightwing Tory. Pro-marketeer against anti-market. Elderly and distinguished versus young and yappy...There were other MPs present. But it was the duel between these two which made it a terrific event.'
Quentin Letts in 'The Daily Mail said : 'Rudyard Kipling wrote a Raj story about a mongoose fighting a cobra. I thought of that pulsating tale while watching BBC chairman Lord Patten thrash in the dust with Tory MP Philip Davies...This was as thrilling a contest – actually quite nastily savage – as I have seen.'
Phil : asked Chris about the the tv interviews he had given and why he hadn't been interviewed by Andrew Neil?
Chris :
"I have too much regard for the boredom threshold of the British public."
Phil : Would he have agreed if asked?
Chris :
"Probably not, because one interview on a Sunday morning is enough
."
Phil : "And because you thought you might get a tougher ride!"
Chris :
"No
." he would wait for the Pollard inquiry.
Phil : "So you will just agree with what Pollard says."
Chis :
"No, but I shall be better informed."
Phil : "Are you not just a patsy?"
Chris :
"I think that is extremely unfair – I would almost say 'unworthy of you'. But I don't think I will make that remark."
At this point there was a snorting noise, which turned out to be other MPs laughing at the insult to Chris.
Phil : said he would return.
Chris :
"I shall look forward to that."
on the return :
Phil : demanded a full 'itinerary' of Chris' life.
Chris :
"I think that is an impertinent suggestion. I'm not going to do a diary for you to satisfy some populist pursuit of someone you didn't want appointed to head an organisation you don't believe should exist. Do you want to know my toilet habits?"
Phil : called Chris "smug, complacent and patronising" and Chris had treated the job as Chairman of the BBC as a sinecure, "and nothing you have said has changed my perspective".
Chris :
"You do not surprise me."
Short excerpt of the Meeting :
http://www.telegraph.co.uk/culture/tvandradio/bbc/9705092/Lord-Patten-at-Culture-Select-Committee-hearing-as-it-happened.html
#
Full coverage of the Committee Meeting :
http://www.parliamentlive.tv/Main/Player.aspx?meetingId=11935