Rod Stewart, who has sold over 100 million records worldwide and is one of the best selling artists of all time, was born in the last year of the Second World War and is 69 years old today.
What you possibly didn't know about Rod and that he :
* was conceived in the spring of 1944 and in his own words was 'obviously a mistake' with his mother at 39 and his father 42, already with four children with the youngest 10.
* while being 'carried' by his mother before he was born, was taken into the family air raid shelter embedded in the ground in the garden during raids in the early hours of the morning, where she and the children slept in a narrow bunk beds and was born in a small bedroom on the top floor of the rented terraced house in Archway Road in Highgate, the windows of which were boarded up by his father after repeated German bomb blasts had blown in the glass.
* on his birth day the wind was blowing gently from the southwest and the weather became cold with sleet and snow and towards the end of his first month, cold and frosty with some freezing fog and when he was 16 days old on the 26th, after a minimum below minus 7°C., the highest temperature during the day was only minus 2.1°C.
* had a father who was a Scot from Leith, north of Edinburgh who was born before the First World War and after a spell in the Merchant Navy had followed his bothers to London for work and met his mother, Elsie, from Holloway, in the 1920s at a dance in Tufnell Park and in 1945 was working as a plumber.
* had a mother, who occasionally with his older brother, Don, played on a baby grand piano in the dining room while his father organised a weekend football club, Highgate Redwing in which his two brothers, and eventually he, would play
When Rod was two years old, I was born in Lewisham Hospital in 1947, on the other side of London and grew up in Deptford, South London close to the timber mill on Deptford Creek where my father worked as a 'saw doctor' and two years after the last bombs fell in that dockland area.
* at about the age of about 8 in the 1950s, Rod and I apparently wore the same tie, shirt and pullover and about this time, 1954, he was taken to see Bill Haley and the Comets at the Gaumont Cinema in Kilburn High Road where 'the rhythm, the brightness of the clothes and
the reactions of the crowd' all affected him and 'maybe a seed was sown' but did not make him a fan.
*
Al Jolson, an American baitone, popular in the 1930s became his favourite singer when the family would gather round the piano and sang his hits and when older, read books, about him, collected his records, impressed by his performing style which remained lasting influence on him.
http://www.youtube.com/watch?

v=dLoCQzzIo7Q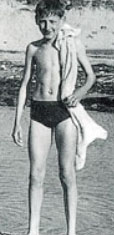 * at the age of 11, failed his 'eleven plus' exam and went to the William Grimshaw Secondary Modern School in Hornsey and 'football mad' and a strong supporter of Arsenal Football Club, became captain of the school football and cricket teams and played for 'Middlesex Schoolboys',
* went on family holidays to Ramsgate on the Kent coast and remembered : 'all of us Stewarts on the beach in the freezing cold in the traditional British way.'
* couldn't get on with 'music' at school where Mr Wainwright made him sing in front of the class and recalled in his Autobiography that 'he would haul me up to sing a few lines of a song, with him on the piano at the front and I would quail and quiver and grope for the notes and feel more uncomfortable than I had ever felt, anywhere, in any circumstance.'
* in 1950 for his 15th birthday was disappointed when his father gave him a Spanish guitar when he wanted a Triang model railway station to complement his model making hobby which was inspired by the view from his house of the steam engines running in the marshalling yards and on the Euston line.
* in his teens went on Aldermaston 'Ban the Bomb' marches with his guitar and busked playing scraps of American folk music from Dylan, Ramblin' Jack Elliott http://www.youtube.com/watch?v=Wlokeez6KIk
and Woodie Guthrie http://www.youtube.com/watch?v=XaI5IRuS2aE
and enjoyed intimacy with girls engendered by a sleeping bag at night and said in his autobiography : 'Those marches were really the beginning for me, of performing, of taking what I had learned in the backyard when I should have been minding the shop and making it public', referring to the family newsagents shop in Archway Road.
So it was post Second World War 1950s Britain which made Rod, as it did, indeed, make many an old baby boomer.
P.S Rod still retains his interest in model railways.