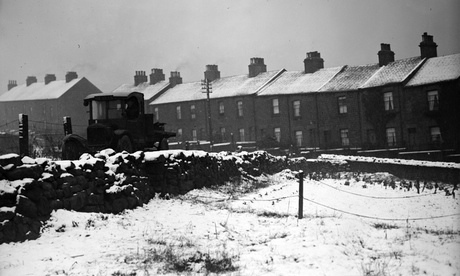 Harry, who spoke in the 'Health and Care Debate' said :
*
"I came into this world in the rough and ready year of 1923. I am from Barnsley and I can tell you, that my childhood like so many others from that era was not an episode from Downton Abbey. Instead, it was a barbarous time, it was a bleak time, and it was an uncivilized time because public healthcare didn't exist."
*
"Back then Hospitals, doctors and medicine were for the privilege few because they were run for profit rather than as vital state service that keeps a nations citizens and workers fit and healthy."
* "
My memories stretch back almost a hundred years and if I close my eyes I can smell the poverty that oozed from the dusky tenement streets of my boyhood."
*
"I can taste on my lips the bread and drippings I was served for my tea. I can remember extreme hunger, and my parent's undying love for me. In my heart. I can still feel my mum and dad's desperation as they tried to keep our family save and healthy in the slum we called home."
*
"No one in our community was safe from poor health, sickness and disease. In our home, TB came for my oldest sister Marion who was the apple of my dad's eye. It is why her sickness and his inability to pay for her medicine or the best care broke his heart."
*
"Tuberculosis tortured my sister and left her an invalid that had to be restrained with ropes tied to her bed. My parents did everything in their power to keep Marion alive and comfortable but they just didn't have the dosh to get her to the best clinics, doctors or medicines. Instead she wasted away before our eyes until my mother could no longer handle her care and she was dispatched to our Work House infirmary where she died 87 years ago. Mum and dad couldn't afford to bury their darling daughter so, like the rest of our country's indigent she was dumped nameless into a pauper's pit."
*
"Election Day 1945 was one of the was of the proudest days in my life I felt that I was finally getting a chance to grab destiny by the shirt collar and that is why I voted for Labour and the creation of the National Health Service."
*
"As I stand here today, my heart is with all of those people from my generation who didn't make it past childhood, didn't get an education, grow as individuals, marry, raise a family and enjoy the fruits of retirement because they died needlessly and too early in another era of austerity. But my heart is also with the people of the present, who, because of welfare cuts and austerity measures, are struggling once more to make ends meet, and whose futures I fear for."
* "
Today, we must be vigilant, we must be vocal, we must demand that the NHS will always remain an institution for the people and by the people. We must never ever let the NHS free from our grasp because if we do your future will be my past. I am not a politician, a member of the elite or a financial guru, but my life is your history - and we should keep it that way. So say it loud and say it clear in this hall and across this country: Mr Cameron, keep your mitts off my NHS."
Harry's speech :
https://www.youtube.com/watch?v=CsmIfDNeKLY
The headlines the next day :
The Independent :
Labour Party conference: 91-year-old campaigner Harry Smith steals show with impassioned welfare defence
The Mirror :
91-year-old NHS campaigner's storming Labour Conference speech earns TWO standing ovations
The Telegraph :
World War veteran's passionate NHS plea earns rapturous applause
BBC News :
Harry Smith, 91, brings tears to Labour delegates' eyes
Sixty-four year old Len McCluskey, General Secretary of the trade union, Unite, holding back the tears.