'invested it'
, in the words of Michael Billington,
'with authority and adorned it with an unforgettable voice that could switch naturally from trumpet to cello'
, has died at the age of 88.
What you possibly didn't know about Richard, that he :
* was born in in 1926 in Richmond, Surrey, the son of Phyllis and Cecil and educated at the boys' independent school, King's College, Wimbledon, which he left at the age of 16 in 1942, during the Second World War and joined as an 'apprentice stage manager' and occasional actor at the Q Theatre near Kew Bridge.
* made his London debut at the age of 17 in 1943 as Diggory in
'She Stoops to Conquer'
at Queen's Theatre and then was called up for War-time Military Service in 1944, served until he was demobbed in 1948, then trained at the Central School of Speech and Drama, graduated with a gold medal in 1950 and began his stage career proper at the age of 24.
* had two at seasons at the Old Vic, followed by the Birmingham Rep, from 1952 to '55, under the directorship of Douglas Seale and increased his versatility with work in British, Greek and French drama including
'The Enchanted'
(right), by Jean Giraudoux in 1955.
* in 1957, at the age of 31, played the dastardly Rodriques in the Robert Shaw tv series, 'The Bucaneers' (two thirds into the clip) :
http://ow.ly/EIZ3S
and Jimmy Porter at the Royal Court in John Osborne's
'Look Back in Anger'
and in the same year, Archie Rice's son, Frank, in
'The Entertainer'
and, as his friend John recalled, sang :
"Don't be afraid to sleep with your sweetheart"
at the lively first-night party.
* in 1959 played 'Teddy' (left) with Lawrence Harvey in the screen version of
'Room At The Top'
:
ttp://ow.ly/EGy7p
and in 1960, the 'treacherous Earl of Newark' (right) in the Hammer Production :
'Sword of Sherwood Forest'
, with a young Oliver Reed as Lord Melton :
http://ow.ly/EGAvQ
, then in 1964, for Hammer again, played Paul Heitz, in the company of Christopher Lee and Peter Cushing in
'The Gorgon'
:
http://ow.ly/EGD4e
* back on stage, after West End appearances, in 1964, at the age of 38, joined the Bristol Old Vic and for three successful seasons played
Henry V
,
Hamlet
, Berowne in
'Love's Labour's Lost'
, Angelo in
'Measure for Measure'
,
Peer Gynt
, John Tanner in Shaw's
'Man and Superman'
.
* in 1966, played an 'intriguing' Cardinal Richelieu in the tv production,
'The Three Musketeers'
(as seen two thirds through you tube clip) :
https://www.youtube.com/watch?v=PUsE3AjSYs8
* signed up with the Royal Shakespeare Company, at the age of 43 in 1969
and
played Leantio in Middleton's
'Women Beware Women'
, acting for the first time with Judi Dench, as Bianca, and later recalled that he found it
'the most fiendishly difficult text to learn. I didn't think I'll ever learn it; it's one of those texts where if you don't go over it at least once every two days it'll never come back to you. We were often doing it after a break of eight or ten days, without even a word-run sometimes, so Jude and I endured that together.'
* stayed with the RSC, more or less continuously, until 1980, playing in his first season, Polixenes in
'The Winter's Tale'
, Proteus in
'The Two Gentlemen of Verona'
and Buckingham in
'Henry VIII'
and graduated to his favourite as Becket in 1972 in Terry Hands's production of TS Eliot's
'Murder in the Cathedral'.
* had his finest hour in 1973 in the famous alternation of
Richard II
and
Bolingbroke
, with Ian Richardson, using John Barton's revelatory idea of seeing the two leading characters as mirror images of each other, rather than violent opposites, their interchangeability underlined before scene 1, when an actor dressed as Shakespeare arbitrarily placed the crown on one actor rather than the other.
* in the same season, played Jacques, to Eileen Atkins's Rosalind, in Buzz Goodbody's
'As You Like It'
.
* received his CBE with his son and wife, Barbara Leigh-Hunt, when he was 51 in 1977.
* in 1979 played Brutus to Charles Grey's Caesar in the tv production of
'Julius Caesar'
and in 1982, with John Barton, Associate Director of the Royal Shakespeare Company, took part with many of the finest British actors of his generation in one rehearsal room, in a grapple with the work of 'Playing Shakespeare' in
'rehearsing the text'
http://ow.ly/EGM38
,
'irony and ambiguity'
:
http://ow.ly/EGMpt
and Richard II's :
"Tell Sad Stories of the Death of Kings"
speech :
http://ow.ly/EGNcV
:
* in 1980 contributed to 'Birds, Beasts and Flowers : a programme of poetry, prose and music' reading
'The Unanswered Question: Miracles'
:
http://ow.ly/EGRug
and
'The Lark Ascending: Proud Songsters'
:
http://ow.ly/EGRTR
* played the Bastard in
'King John'
, Aleister Crowley in Snoo Wilson's,
'The Beast'
and
Timon of Athens
in Ron Daniels's 1980 production, at first with the air of an innocent prodigal, but later as Michael Billington wrote :
'With his red-rimmed eyes, patchwork costume and habit of gnawing passionately at root vegetables, he is the picture of desolation: a poor, bare, forked animal with vast reserves of hate.'
* in 1984 at the age of 58, starred in the six episode, Yorkshire TV mini-series,
'Sorrell and Son'
as a decorated First World War hero, raising his son Kit alone after his mother had deserted husband and child :
http://ow.ly/EGJ0N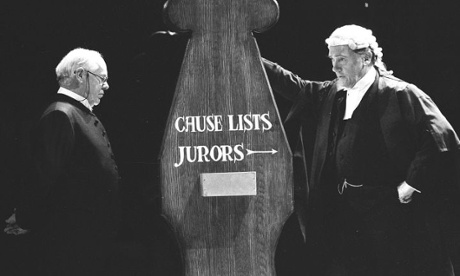 * with Michael Bryant, played in David Hare's
'Murmuring Judges'
at the National Theatre in 1991 and was back on stage in '93 in the David Hare trilogy about religion, the law and the Labour Party, especially memorable as the Bishop of Southwark, in
'Racing Demon'
,
"brass balls clang as he walks".
* at the age of 71 in 1997, played the physician, Dr Jenner, to Judi Dench's Queen Victoriain
'Mrs Brown'
in a period when he made appearances in popular tv series : 'Inspector Morse', 'Kavanagh QC' and 'Hetty Wainthropp Investigates'.
'How Pleasant to Know Mr Lear !
' with his wife Barbara.
* in 2008 at the age of 82 produced a
'Frankenstein'
audiobook in 13 parts :
http://ow.ly/EGTgU
and in 2010 in a
'Short Stories'
compilation read Edgar Alan Poe's
'The Tell-tale Heart'
:
'One of his eyes resembled that of a vulture -- a pale blue eye with a film over it. Whenever it fell upon me my blood ran cold, and so by degrees, very gradually, I made up my mind to take the life of the old man, and thus rid myself of the eye for ever....'
* could look back with pride over a life well spent, thrilling audiences over fifty years on stage, screen and television :
http://ow.ly/EGUKw
and should have the last word reading, with that beautiful voice, Robert Frost's
'The Span of Life' :
The old dog barks backwards without getting up.
can remember when he was a pup.
https://www.youtube.com/watch?v=TvVTmUZyyCk