The 78 year writer and illustrator,
Raymond Briggs is the creator of the book
'The Snowman',
which led the animation studio TVC to extend it into the well-loved 28-minute cartoon
which tells the story of a boy who makes a snowman who comes to life.
https://www.youtube.com/watch?v=x4k-9KGs_4U
Raymond once said that : "Anything that's not in the book is nothing to do with me whatsoever. When TVC phoned me up one day and said 'We are thinking of having him go off to visit Father Christmas at the North Pole', I just thought 'Oh my God, no, must we?'?" So the visit to Santa and a hair-raising motorcycle ride are both additions to the original storyline as are the final moments, when the boy finds in his pocket a scarf given to him by Father Christmas: consoling proof that the whole thing was more than a dream.
In the book, however, the Snowman melts with Raymond saying : "I don't believe in happy endings. Children have got to face death sooner or later. Granny and Grandpa die, dogs die, cats die, gerbils and those frightful things - what are they called? - hamsters: all die like flies. So there's no point avoiding it."
The film has been a tv favourite since its first screening 30 years ago and now Raymond has endorsed a sequel,
'The Snowman and the Snowdog'
to be aired at Christmas. Set 30 years on from the original, it opens with a boy mourning the death of his dog while snow falls outside. He lifts up a floorboard and finds an old scarf with snowmen printed on it, a memento stowed away long ago by another child. Inspired, he goes outside and builds a snowman and snow dog, with a satsuma for a nose and mismatched socks for ears.
Raymond has said :
"I'm not grumpy about it, or the introduction of a new character. It is absolutely super, not sentimental at all.
The Snowman's
success is about a simple thought. We all have favourite people we become fond of and then they pass away, it touches a chord, of loss – even for young people, someone dies."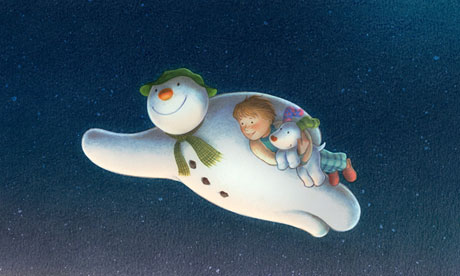 In the new story :
* the boy, clutching the dog, flies over the London Eye rather than Brighton Pier and Pavilion, as the boy does in the original.
* they meet up with a Snowmen Convention at the North Pole and frolic at a ski resort.
* the Snowman melts away as the sun comes out, although the boy gets a lasting memento from Father Christmas, this time a dog collar instead of a scarf.
The original film is wordless, like the sequel, save for the song 'Walking in the Air', which became a hit when covered by Aled Jones in 1985.
https://www.youtube.com/watch?v=spFJEIjBwFs&feature=fvwrel