Oswald, the Oscar-winning British cinematographer of 58 films and some of the best scenes ever created for the movies and ensured the camera only caught Hollywood stars such as Stuart Grainger and Elizabeth Taylor at their best, has died aged 98.
What you possibly didn't know about Ossie, that he :
*

was born half way through the First World War in Hillingdon, West London, in 1915, where his father, a newsagent, would make one-minute films with him and his brother in their garden in Ruislip near the outside loo and under the name of 'Bogside Productions'.
*

went to Uxbridge County School and a dedicated film fan in the 1920s, worked as a cinema projectionist during school holidays, then after leaving school at the
age of 16, successively as an unpaid apprentice, a 'clapper boy' at £2 a week and by his twenties in the late 1930s, a camera operator, first at Wembley Studios and later Elstree.
*

was conscripted into the Royal Air Force during the Second World War, flew Lancaster bombers on raids over France and Germany, won the Distinguished Flying Cross in 1943 then transferred to Transport Command and in 1945 flew Field Marshal Alanbrooke, Chief of the Imperial General Staff, on a world tour which included Yalta for the second Conference with Churchill, Roosevelt and Stalin, for which he was awarded the Air Force Cross to go with his DFC.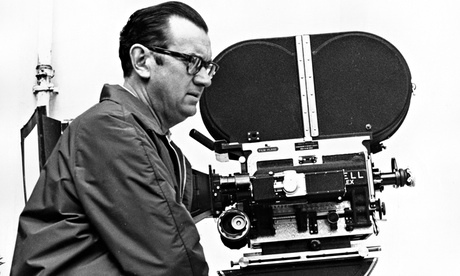 *

resumed his career in the film industry as a camera operator and worked with top flight directors of photography Wilkie Cooper and Guy Green in the late 1940s on 'Green for Danger'
, 'Blanche Fury' and 'Oliver Twist'. where when given the task of creating a point-of-view shot of Oliver being punched in the face said : " the only way I could think of to achieve this was to use a pram. I couldn't run with the camera as it would be too unsteady. So I climbed in, and David Lean gave me a push. The punch went right into the lens."
https://www.youtube.com/watch?v=0Hd5o1SnfMU
https://www.youtube.com/watch?v=BymXrn22x6o
*

was promoted to lighting cameraman by cameraman-turned-director, Ronald Neame and worked on 'The Golden Salamander'
at the age of 34 in 1949, followed by the love story, 'So Little Time' and the Alec Guinness vehicle, 'The Card'.
https://www.youtube.com/watch?v=08hPgBF3bq8
https://www.youtube.com/watch?v=szQrtiKH6Ho
*

in 1952 at the age of 37 was invited to meet John Huston in Claridges and recalled he said "'come in, sit down kid, sit down kid' and one thing he asked me, which absolutely flummoxed me - he said 'do you know anything about the Toulouse-Lautrec paintings?' and so began the first of 8 collaborations on 'Moulin Rouge', using filters to create the muted, soft tones to fufil his request to make it look "as if Toulouse-Lautrec had directed it" which brought them into dispute with the Technicolor film lab, which said his material was 'faulty'.
https://www.youtube.com/watch?v=CKyh4zKkths
*

gained an award form the British Society of Cinematographers for 'Best Cinematography' and later said : "This unique use of colour was the best thing about the film. It was the first picture that succeeded in dominating the colour instead of being dominated by it."
*

in 1954, worked with French director and screenwriter René Clément on his black comedy, 'Knave of Hearts' and learnt much from his spontaneous, location-led and documentary style photography.
https://www.youtube.com/watch?v=rz421Hk6zVg
*

was reunited with Huston in 1954 on 'Beat the Devil'
and two years later embarked on an ambitious colour experiment with 'Moby Dick', seeking to reproduce whaling prints of the period by using the effect of desaturation and special printing to give an etched feel to the colour.
https://www.youtube.com/watch?v=F5IFZSKimuM
https://www.youtube.com/watch?v=a7dSTdHziMs
*

at the age of 41 accompanied Huston on location for 'Heaven Knows, Mr Allison'followed by 'Roots of Heaven'
shot in CinemaScope and in the late 1950s worked with Tony Richardson in 'Look Back in Anger',
'The Entertainer', 'Reed for The Key' and 'Our Man in Havana'
and less happily, with Kubrick on 'Lolita' in 1962.
https://www.youtube.com/watch?v=GVsxx2TlKrc
https://www.youtube.com/watch?v=NAiWRIJXNr4
https://www.youtube.com/watch?v=NOcRnbGhQqc
https://www.youtube.com/watch?v=wKk5gzEhphY
*

in the mid-sixties reached a peak in his monochrome work with three successes, which won him Bafta awards for 'Best British Cinematography' with
-

'The Pumpkin Eater' for Jack Clayton with his grainy, claustrophobic feeling to match the intense drama.
https://www.youtube.com/watch?v=p1svju47XsQ
-

'The Spy Who Came in from the Cold' for Martin Ritt with his cleverly lit locations and dramatic interiors reflecting the sombre events.
https://www.youtube.com/watch?v=lNrjAMV0HJk
-

'The Hill' for Sydney Lumet with his rugged documentary tone with an emphasis on heat and unremitting glare contributing to the tough performances set in a North African punishment camp for British soldiers.
https://www.youtube.com/watch?v=GlWd_RvUzqw
*

was called to Italy by Huston to complete 'Reflections in a Golden Eye'
https://www.youtube.com/watch?v=5RxcU7PKKfc
in 1967 to provide a desaturated effect and a golden hazy glow to heighten the story of heated passions and betrayal and also worked in Italy for Zeffirelli's exuberant 'Taming of the Shrew' with a photographic style inspired by Italian Renaissance art.
https://www.youtube.com/watch?v=2ZXHvW9TinQ
*

ended the 60s with three lavish musicals, 'Oliver!'
for Reed, 'Goodbye Mr Chips'
for Herbert Ross and 'Scrooge' for Neame capped by 'Fiddler on the Roof' for Norman Jewison in 1971
with an unfussy style to reflect the simple humanity of the characters through the changing seasons and a silk stocking over the lens to give a sepia effect.which won him an Oscar for 'Best Cinematography' and later recalled that the director had "pushed me to my limit, and I need to be pushed when I'm working".
https://www.youtube.com/watch?v=kT3pPjuXeVU
https://www.youtube.com/watch?v=fCl7OfBJyi0
https://www.youtube.com/watch?v=gsDP
*

was busy in the 70s with 'The Man Who Would Be King'
for Huston, 'The Odessa File',
'Equus'
and 'The Wiz', the Wizard of Oz musical starring Diana Ross and Michael Jackson for Lumet as well as the Bond film, 'The Man with the Golden Gun', for Guy Hamilton in 1974.
https://www.youtube.com/watch?v=3dJf5rO0-BM
http://www.imdb.com/video/screenplay/vi3203858713/
https://www.youtube.com/watch?v=GFHKPf6--Kc
https://www.youtube.com/watch?v=2DkwSqNDJbM
https://www.youtube.com/watch?v=3mSVvuqwyOA
*

finished his career with two collaborations with Jim Henson's Puppet Workshop's, 'The Great Muppet Caper'
https://www.youtube.com/watch?v=09tVBhCvv0M
saying that "I think of Kermit (the frog) as my leading man and Miss Piggy as my leading lady...So I lit Miss Piggy as if she was Greta Garbo or Sophia Loren" and his final feature as a cinematographer, the fantasy 'Dark Crystal' at the age of 66 in 1982.
https://www.youtube.com/watch?v=shqKVCJuFns
*

in 2000 was awarded the American Society of Cinematographers' 'International Achievement Award' when its President, Victor Kemper said : "Ossie Morris is a true artist who has compiled a remarkably diverse and enduring body of work. The best directors sought him out for some of their most important films and he never disappointed them."
*

wrote his autobiography, 'Huston, We Have a Problem' in 2006 in reference to his work with Huston and said : 'It's true. I did used to go up and say, "John, we have a problem," and he would always say: "Well, kid," - he always called me kid - "what are you going to do about it?" and I'd go and find a solution. We always came up with something in the end.'
*

in 2011 paid tribute to Sir Sydney Samuelson's contribution to the film industry in his usual unassuming and self-effacing manner :
http://vimeo.com/62608667
*

after his death, had the British Society of Cinematographers say of him: 'Ossie will be sorely missed by those in the industry, a delightful man, inspired by Ronald Neame and Guy Green; who in turn has himself been an inspiration to a new generation of cinematographers.'
Director Ronald Neame rated Ossie as "probably the greatest film cinematographer in the world", so what was the secret to his success ?
Firstly,

his experience as a pilot of a Lancaster bomber during the Second World War when : "One thing I learned from the RAF was leadership. I flew the aircraft because I didn't want some other idiot flying it, being responsible for my neck!" This was reflected in his work on set where he could be a real taskmaster who, once he set a scene, what he said was law. A perfectionist, at a time when one was needed, especially when working with Huston who would spend all day reading a book and then come on set expecting everything to be set up.
Secondly

his ability to manage the stars he worked with and film them to their best advantage : "I would chat them up before filming started and ask if they had any hang-ups. You bypass the director and form a relationship with them. Sophia Loren was as nervous as a kitten when I worked with her in 1957. She said, 'I don't look good in profile. I have a pointed nose'. So we developed a code: I would grimace whenever she was going into profile." When he worked with Jennifer Jones on several films and found her particularly difficult until he discovered her liking for boiled sweets and said "I'd have a bag on hand so I could offer her one after a scene It would change her completely."
The last factor was mentioned by Michael Caine : "Apart from being a superb cameraman he is also very nice, very kind and very funny – a tremendous combination."
Earlier post :
Monday, 10 February 2014
Britain is still a country for and says "Happy Birthday" to a very old cinematographer called Douglas Slocombe who brightened the lives of old men who saw his films at the pictures when they were boys
http://britainisnocountryforoldmen.blogspot.co.uk/2014/02/britain-is-still-country-for-and-says_7290.html