Chris, who was a British athletic champion in the 1950s corinthian, 'Chariots of Fire' tradition and a 1970s consensual Conservative Government Minister before the advent of Thathcherism, has died at the age of 82.
What you possibly didn't know about Chris, that he :
* was born in 1931 in Chelsea, London, eight years before the outbreak of the Second World War and bought up before its outbreak partly in Anglo-Egyptian Sudan, where his
father was a district commissioner, until sent to Sherborne public school for boys where he excelled at rugby, boxing and gymnastics but did not win a race until he was 16 and then went to Magdalen College, Oxford, where he read philosophy, politics and economics and became President of the Athletics Club.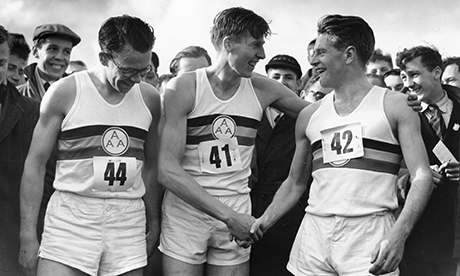 * had taken up competitive running at University at the age of 19 in 1950 and acted as one of the pacemakers when his close friend, Roger Bannister, ran the first sub-four minute mile on 6 May 1954 at the University's Iffley Road Track
and after the race congratulated Roger (centre) with fellow runner Chris Brasher on the left.
* ran in the 5,000m final of the Helsinki Olympics, where he kept up with athletes of the calibre of Emil Zatopek, before stumbling on the final bend, then picking himself up to finish fifth.
* was unsponsored and part-time as an athlete who later said :
"Our group was the last generation who were lucky enough just to be at the top of the sport while having it only as a recreation, a very serious recreation to be sure – we worked hard at it, but we had other work as well."
* with his red hair, ran as
'Red Fox'
, trained for an hour a day, six months a year, smoked fifty cigarettes a week and, after he broke the world record for the 5,000m, in front of a 45,000 crowd at White City at the age of 23 in 1954, beating the Soviet champion, Vladimir Kuts to set a world record of 13 minutes 51.6 seconds for the 5,000m, surprised his Russian rivals by lighting a large cigar at the reception.
http://www.youtube.com/watch?v=YOXLX3WYFtY
* became, as a result of his victory, the first ever winner of the BBC's
'Sports Personality of the Year'
and later commented with self-effacement :
"They say 12 million watched. So, basically, if you were watching TV and didn't want to see me, sadly there wasn't any alternative for you because there were no other channels!"
* worked for the Guinness Company for two years and was the first to suggest that it might publish a
'Book of Records',
edited by his athlete friends, the McWhirter twins, before moving into tv in at the age of 24 in 1955 at the newly established ITN, where his glamour and fame saw him briefly become a newsreader and the presenter of its first bulletin.
* joined and was a member of the BBC's
'Panorama'
team as a reporter for four years,
http://news.bbc.co.uk/panorama/hi/front_page/newsid_7966000/7966451.stm
while aspiring to a career in politics, just the sort of dynamic young candidate the Conservative party under Harold Macmillan was looking for and rather than being 'parachuted' into a safe parliamentary seat, chose to serve an apprenticeship representing North Lewisham on the London County Council for three years before being elected as its Member of Parliament at the age of 28 in 1959.
* in his maiden speech, expressed the hope that the England Cricket Team would refuse to play a tour in apartheid South Africa and served as an MP for seven years, working in the Macmillan Government as a Junior Education Minister until he lost his seat in the Labour landslide of 1966 and then served as Leader of the
'Inner London Education Authority'
and made a cautious introduction of comprehensive secondary education.
'Minister of Posts and Telecommunications'
and introduced commercial radio before being promoted to become
'Minister for Industrial Development'
in charge of regional aid.
* was always moderate in his conservatism and, for example, a doughty opponent of racial discrimination and finding the tide running out on his style of consensual politics, stood down at the 1974 election, to start a career in the City, principally as Managing Director and then Vice-Chairman of
'Orion Merchant Bank'.
* served as President of the
'Commonwealth Games Council for England'
, was for a time Chairman of
'UK Athletics'
and in 1991 at the age of 60, became Chairman of the
'Civil Aviation Authority'
and four years later was knighted for his services to aviation, was also Chairman of
'Groundwork'
, an environmental charity, Chairman of
'ActionAid'
and Treasurer of the
'National Campaign for Electoral Reform'.
* supported the charity,
'Vicky's Water Project'
, set up in 2006 by his son Adam after his fiancee was killed in a road accident which aimed to bring fresh water to villages in Ethiopia Project
http://www.youtube.com/watch?v=B_cCjSEQqrk
and has transformed the lives of 20,000 people and at the age of 79, preparing to take part in the
'Great North Run'
to raise money for the Project and aiming to beat 80% of the field, said :
"I sometimes think that running, which was a sort of tormentor in my youth, has returned to be a friendly codger in my old age."