Vidal Sassoon, the most famous hairdresser of the 1960's who created styles which caught and then boosted women's new feelings of personal freedom who was born in Britain and stayed here before moving to the USA in his 30's, has died at the age of 84.
What you possibly didn't know about Vidal's life during his 39 years in Britain, that :
* he was born in Whitechapel of Jewish parents, his mother's family from the Ukraine and his father's from Thessaloniki in Greece and when his carpet-salesman and womanising father left the family when he was 5 years old, lived with his younger brother in an orphanage for six years until his mother remarried, during which time she was allowed to visit them once a month and never allowed to take them out.
* during the Second World War, was evacuated to Wiltshire and after his return to London,
set his heart on playing football for Chelsea or becoming an architect, but instead left school at 14
and worked as a messenger before starting a hairdressing apprenticeship at 'Cohen's Beauty and Barber Shop', and made his displeasure felt by throwing tantrums and his scissors at the ceiling and briefly running away to Paris .
* became a militant Zionist, though not a religious Jew and at 17 joined the Jewish ex-servicemen of the '43 Group' which, armed with knives and sticks, would break up meetings of Oswald Mosley's fascist Blackshirts, and often coming off worse for wear, would arrive in the salon with cuts and bruises, which he explained away by saying he'd "slipped on a hairpin".
* 'called up' to do 'National Service' in the RAF, was always getting into fights after challenging anti-Semitic remarks and, after going 'absent without leave' after one such incident coincided with Yom Kippur, was committed to a psychiatric ward and then given a medical discharge from the Air Force.
* in 1948 he went to Israel, worked on a kibbutz and joined, at the age of 20, joined the 'The Defense', ההגנה,
HaHagana
and fought in the 1948 Arab-Israeli War which began after Israel achieved statehood and later said : ''When you think of 2,000 years of being put down and suddenly you are a nation rising, it was a wonderful feeling. There were only 600,000 people defending the country against five armies, so everyone had something to do'.
* he, with his unit was stationed near Gaza, and at one point, took a hilltop position that it defended for 17 days, despite suffering heavy casualties and later described this as 'the best time of his life', but found it was cut short when his mother recalled him to London, saying his stepfather had been taken ill and he had to earn a living and returned to hairdressing with a greater sense of discipline.
* while learning the hairdressing trade with Teasy-Weasy ( right), went to West End theatres where, determined to 'improve' himself, studied and copied the diction of actors Ralph Richardson and John Gielgud.and took elocution lessons to moderate his cockney accent.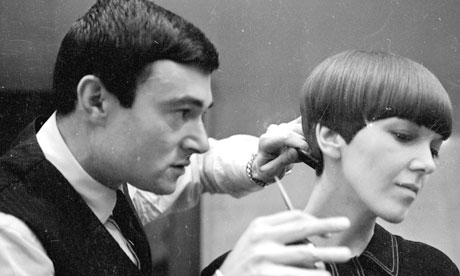 * when his stepfather offered to set him up in his own business at the age of 26 in 1954, opened his first salon on first floor at the unfashionable end of London's Bond Street, where he vowed never to backcomb hair again, and women soon flocked to experience what were revolutionary ideas and in 1958 created the 'shape', which became his signature cut influenced by the Bauhaus designs he had studied and in 1963 he devised the classic 'bob' for fashion designer Mary Quant, who was doing for clothes what he was achieving in hairstyles.
* gave actress Mia Farrow the urchin cut that turned her from a so-so soap star in Peyton Place to Roman Polanski's leading lady in Rosemary's Baby when she had waist-length blonde tresses and was, at the time, Frank Sinatra's fiancée.
* found celebrities were streaming into his salon : Ava Gardner and Rita Hayworth, Elizabeth Taylor used to send for him at the airport between flights, gave Peter O'Toole his blond highlights for Lawrence Of Arabia, giving rise to the quip that if he had made him any prettier, he'd have been known as 'Florence of Arabia'.